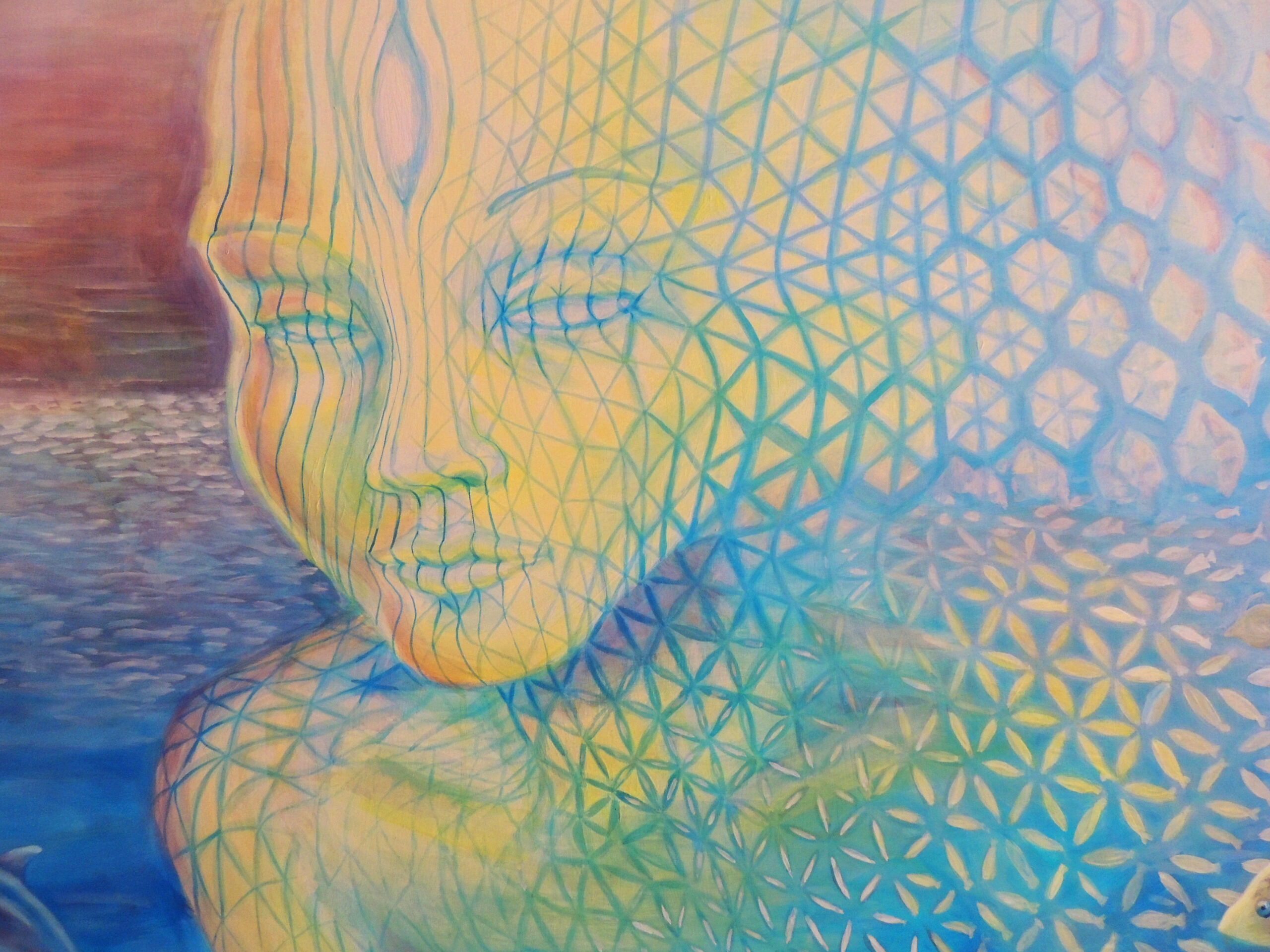 GAYA CAMPONI
"As an exponent of Conteporary Visionary Art, Gaya Camponi Benaglia aims to go beyond the physical world, to offer a broader vision of Consciousness, through Mystical and Spiritual themes.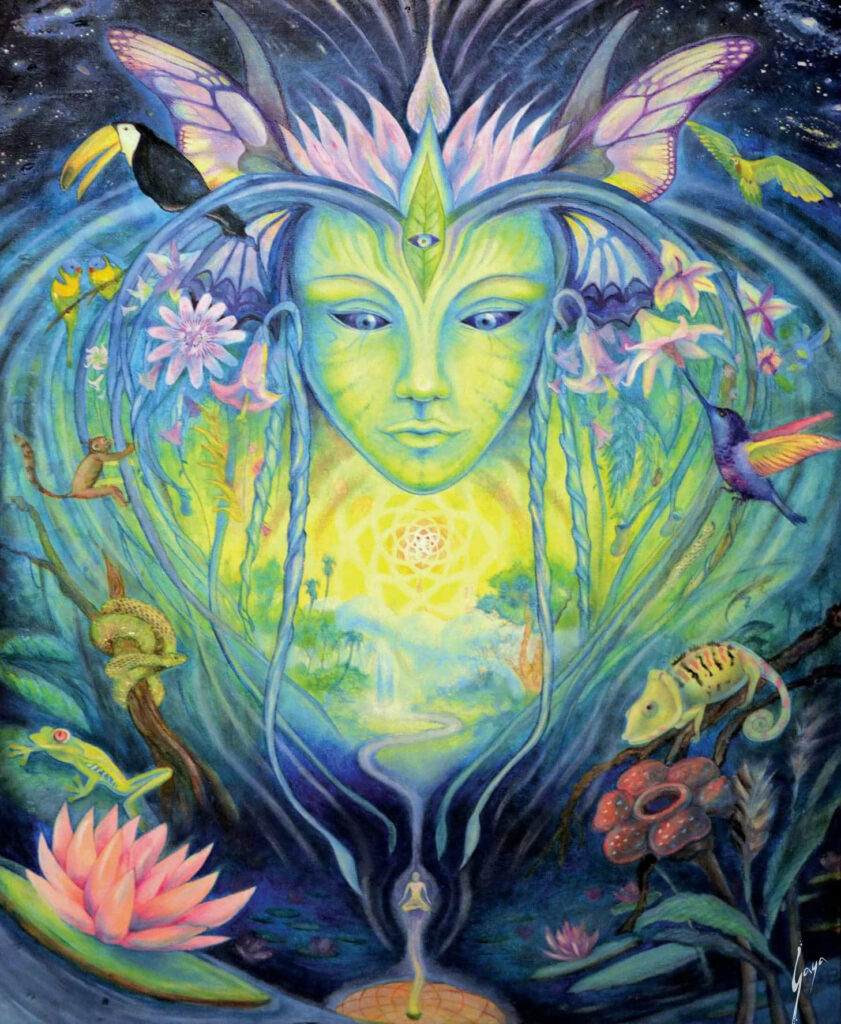 The artist's style is an alchemy of personal awareness enriched by her travels and experiences of living with Ancient Tribal Cultures.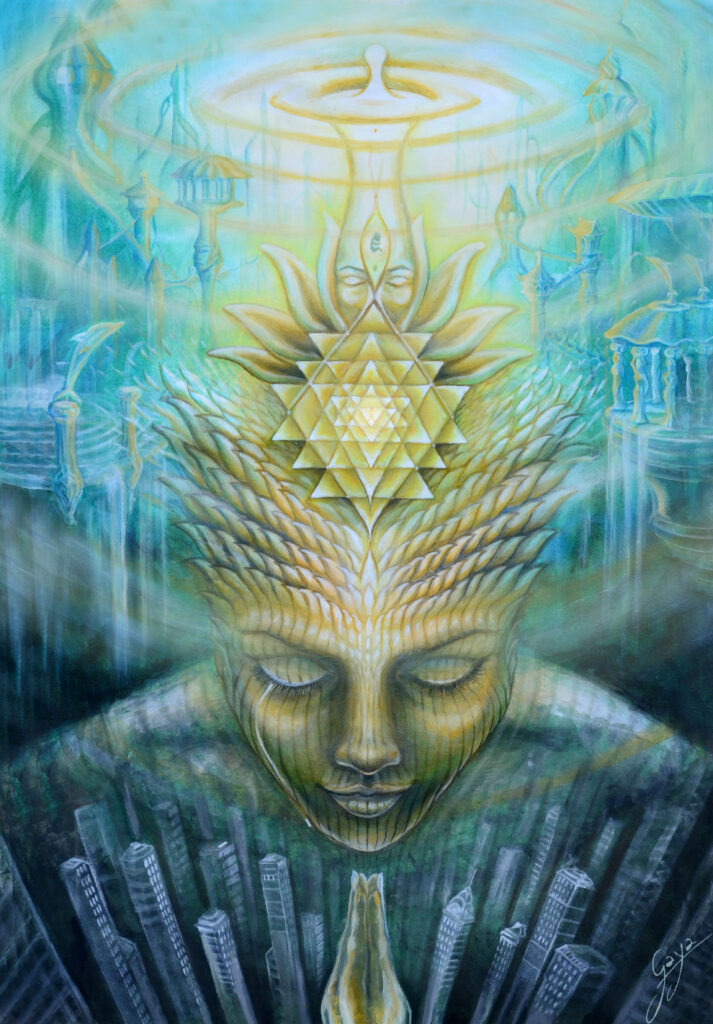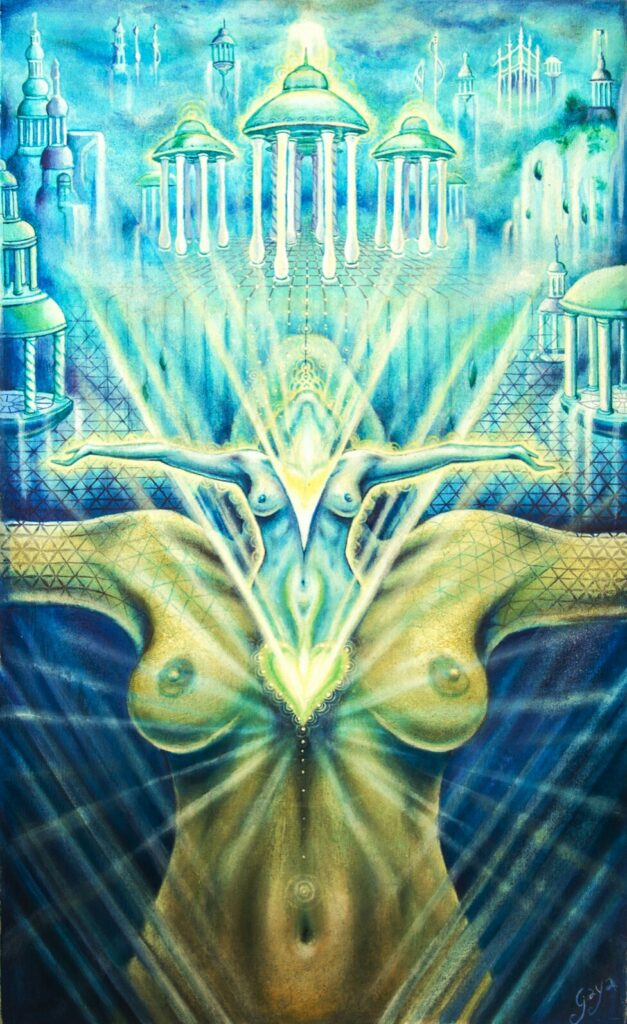 The artist sees the values of humanity emerge, based on naturalistic and sacred scenarios and she projects her new art for the future through a prayer for this world.
The exceptional glimpse of heaven to celebrate the gaiety of young indigenous people, culturally distant from any form of conflict and loss of true values.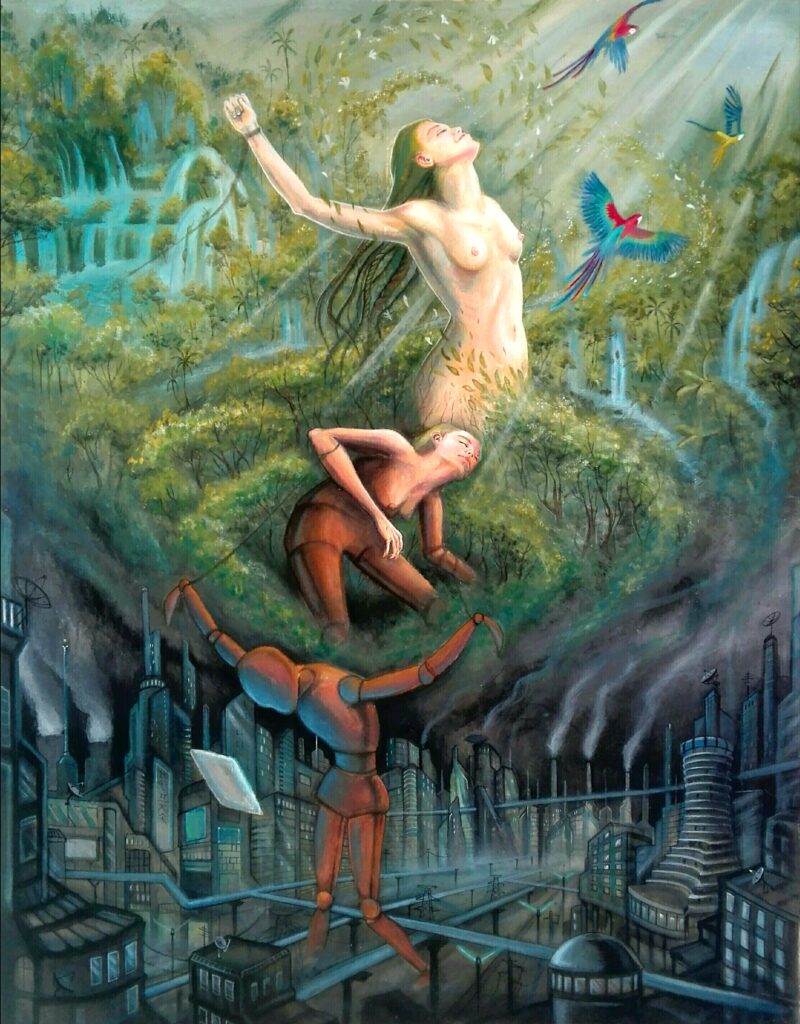 A tangle of vibrant lines detaches from the material level, made sacred by the Energy itself, on which the bodies flow with their vital momentum out of their starting dimension.
Each painting is a true story of the artist'personal journey.
The observer finds their spiritual healing and sensory peace through a harmony of colors, shapes and spaces.

The dream, a key element, romantic and real, unites the seen with the unseen, born from the spirit, captured and in turn made manifest as in a spell.

The symbolism of Sacred Geometry plays a key role in showing us our profound connection to our ancestral roots and knowledge.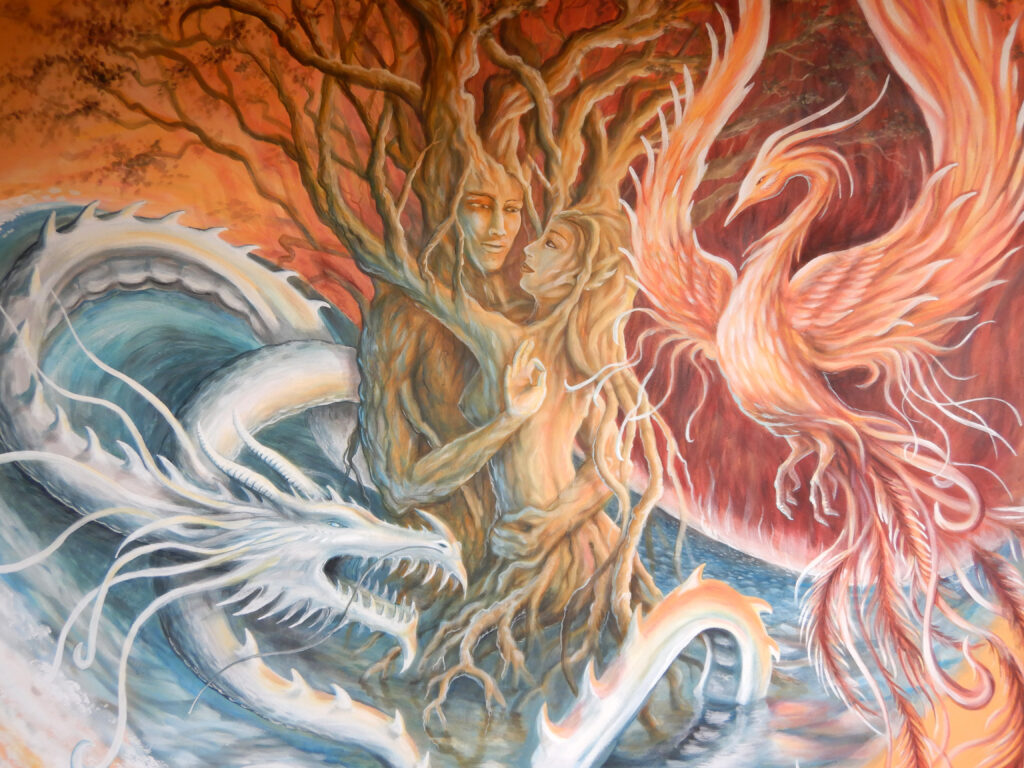 The third eye opens and the sacred finds its balance at the center of the two universal forces of masculine and feminine.

The connection with Mother Earth allows you to rediscover your ancient origins.
New discoveries in quantum physics help to understand how the Universe works.
Art Criticism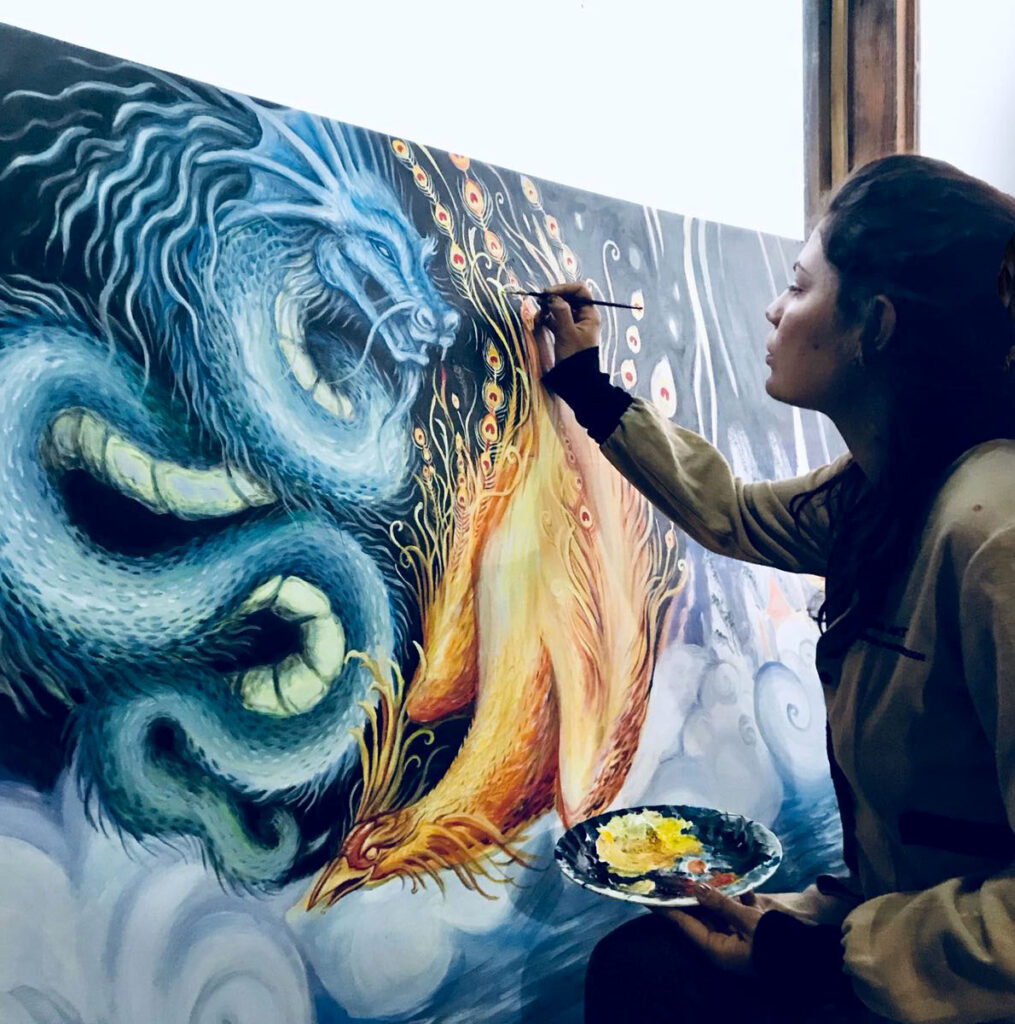 ---
Wall Art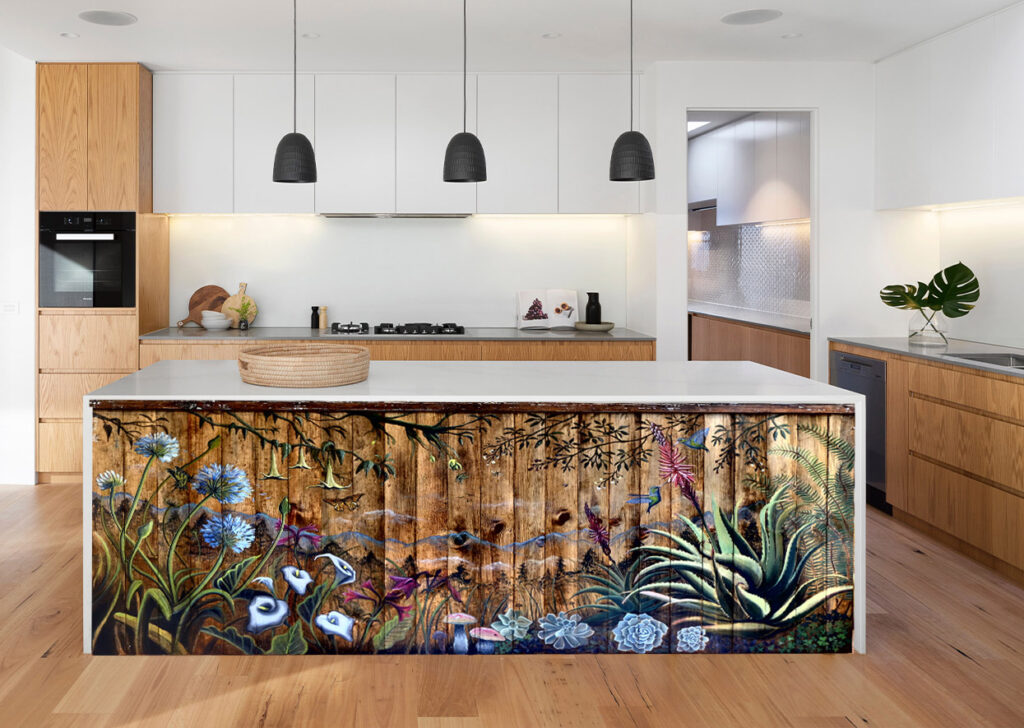 The Wall Art project was born from the union between 2 passions: wall painting and travel. After a decade of studying techniques, painting puts itself at the service of tourist places around the world.
Wall Art can be realize in:
Private residences and Public places
Exterior and Interior
Masonry wall and Wooden wall
Equipped empathy, for many years Gaya has been able to connect with the people and transform ordinary public places into their best version.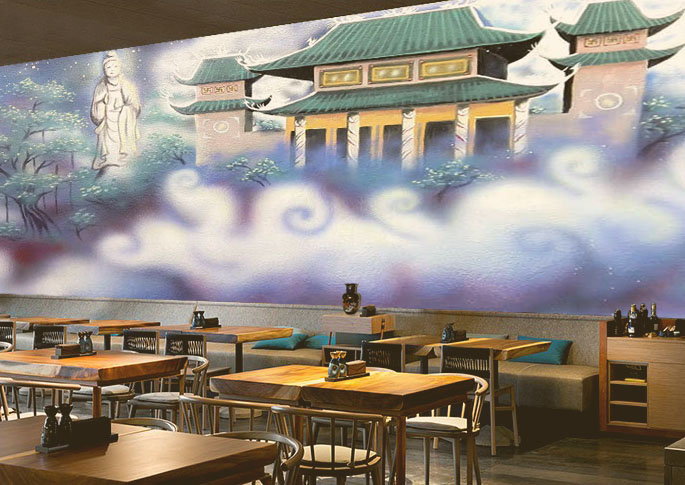 " Ronald has a 𝗛𝗢𝗧𝗘𝗟 with Restaurant and wants to 𝗗𝗶𝘀𝘁𝗶𝗻𝗴𝘂𝗶𝘀𝗵.
He chose Gaya's WALL ART to 𝗘𝗻𝗵𝗮𝗻𝗰𝗲 the 𝖲pace.
The PAINTING has become the Special Feature,
the 𝗔𝘁𝘁𝗿𝗮𝗰𝘁𝗶𝗼𝗻 for those him customers.
Triple your Turnover and increase your 𝗣𝗼𝘀𝗶𝘁𝗶𝘃𝗲 𝗥𝗲𝘃𝗶𝗲𝘄𝘀! "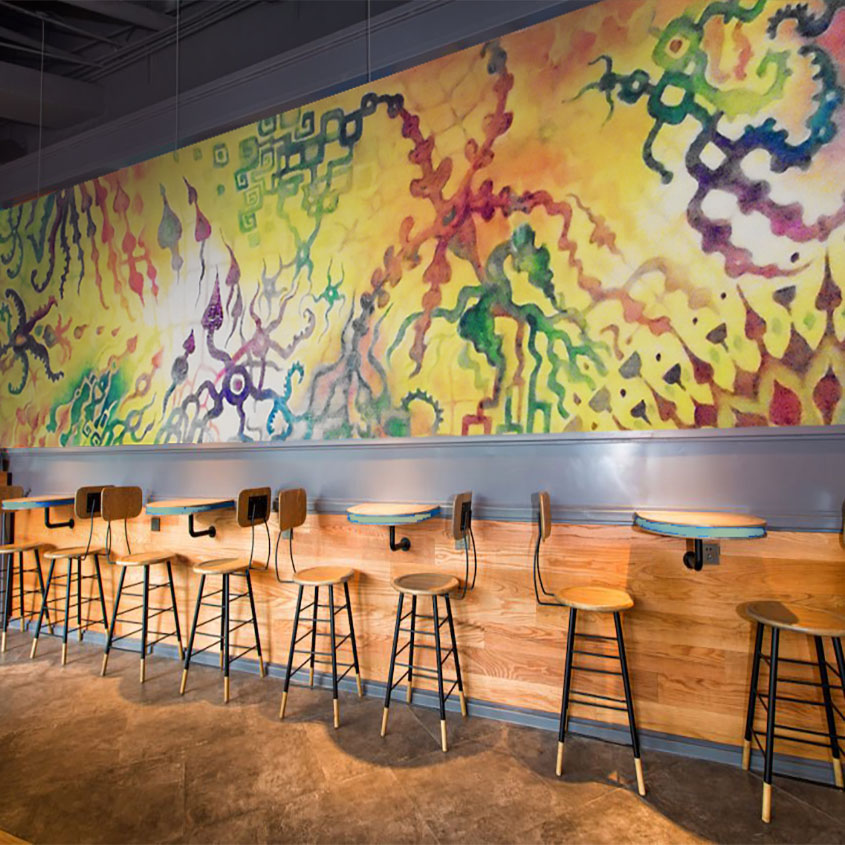 your Place is UNIQUE
---
Invest in Crypto Art, Check the NFT Market!
---
Review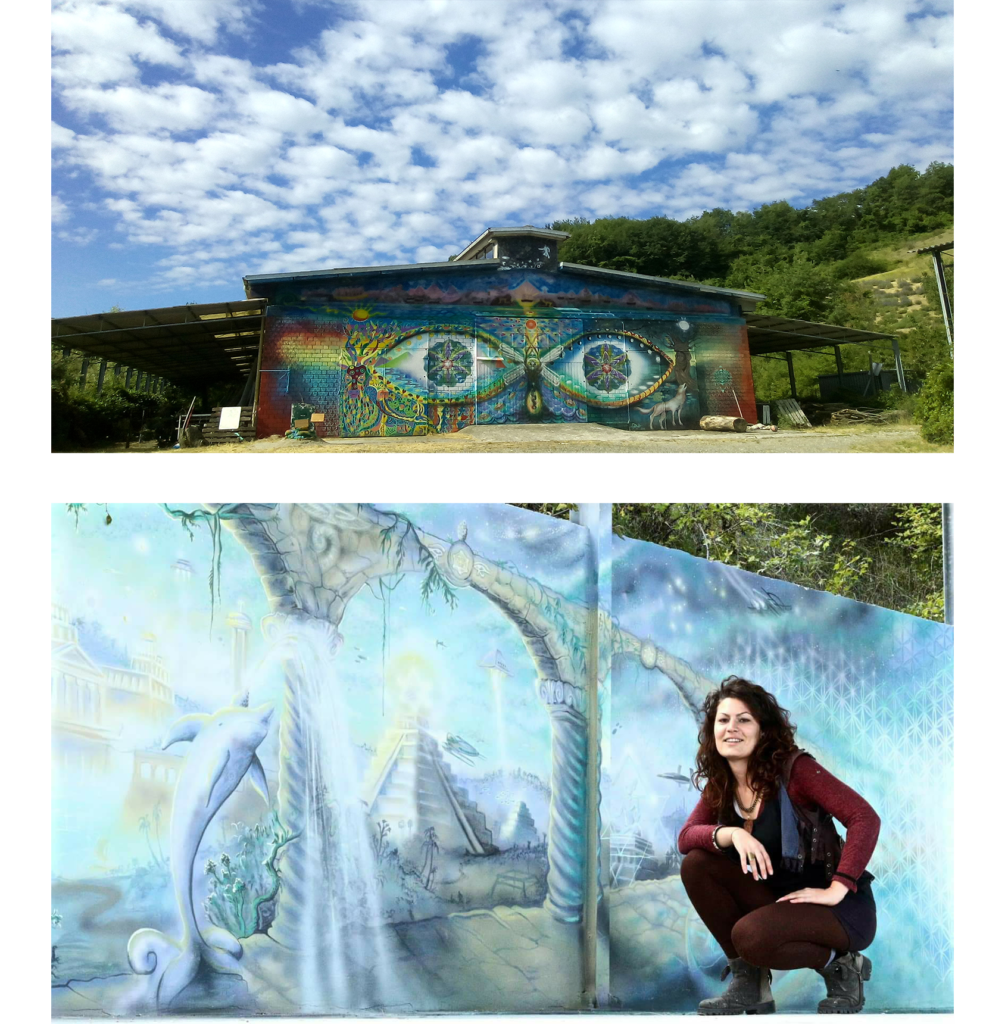 "I had Gaya as a Guest in a Visionary Art retreat at my hotel. I commissioned 2 large masonry for her incredible talent. The hotel is crossed by the "Via degli Dei", an important trekking route that connects Bologna to Florence.
Two fantastic paintings have become famous…in recent years there hasn't been a traveler who hasn't been dazzled and deeply impressed by Gaya's works.
Incredible artist who manages to speak the language of the universe and to connect us with our ancestral memories.
Unique and indescribable… only by immersing yourself in her works can you understand the profound message that she manages to convey every time.
Honored to have met you on my way!"
Barbara Venturi – Hotel Manager
"Very good ❤️ in my clothing store she made a totally freehand Wall painting and perfectly interpreting the style I propose. Truly an all-round Artist, who wisely combines vision and technique. I adore it!"
Sara Sciarelli – Fashion Designer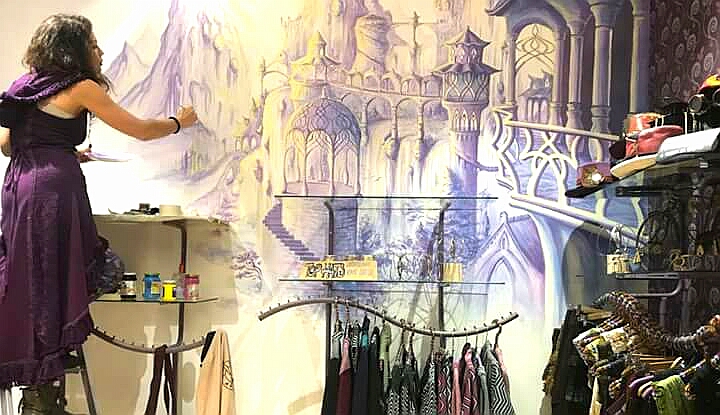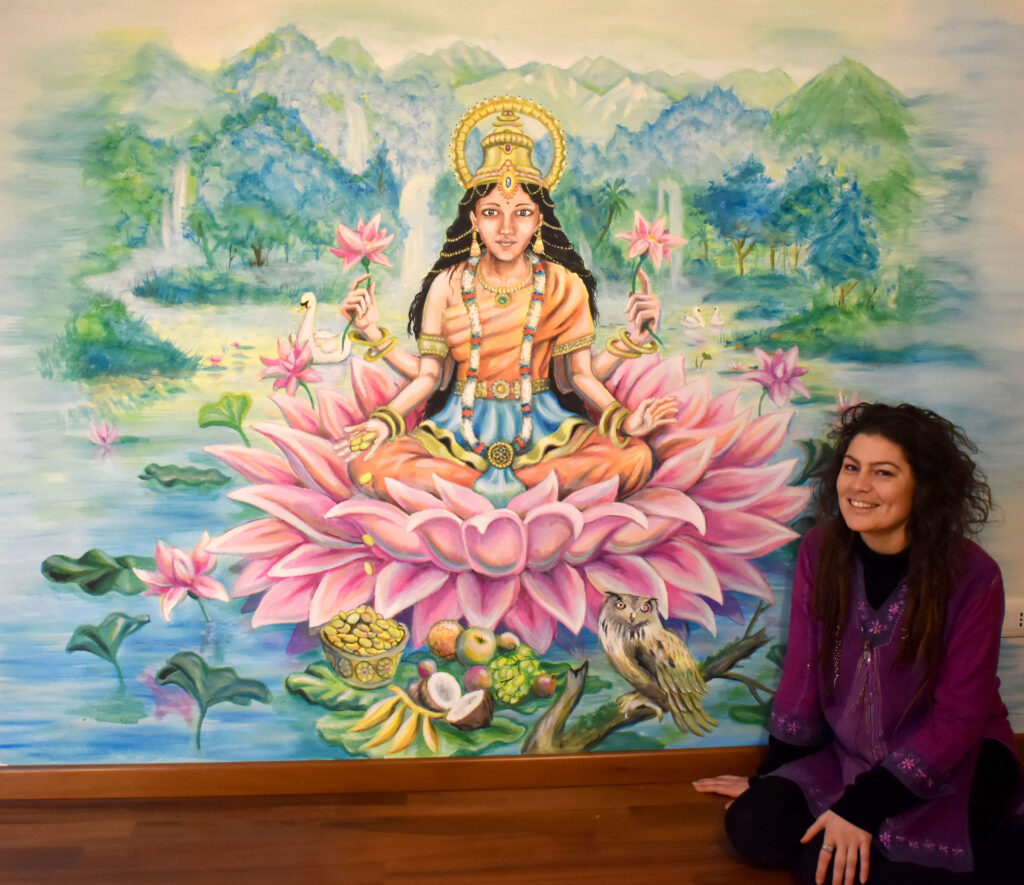 "I am a perinatal educator, a doula.
When I thought about having Lakshmi, the Goddess of fertility, in my Holistic Center, it was clear that Gaya could make my vision come true.
Gaya caught on right away, understanding the design was simple for her, she knew how to interpret it, it didn't take much to take action!
An ethereal creature, at times unreal, who allowed me to immerse myself in her magic world!
Now Gaya and Lakshmi accompany my courses, I feel immense gratitude."
Francesca Caroli – Educator
I still didn't know Gaya in person, but I had been following her enraptured on social media for a long time, enraptured by her art… as I always recognized her works. I asked Gaya to create a painting in my hotel: she was really splendid, while I was explaining my idea to her, she showed me in an instant the sketches she was drawing; in real time a dip in the heart and soul. It was what I imagined and she managed to fully center the sacredness of creation, the cycle of the cosmos, the 4 elements, the Gyan mudra, the duality of Ying and Yang… So from May 20, 2021 I'm grateful for this meeting and for the Seal created by her in my Hotel in Florence; her work is the perfect balance and tribute to mother earth and creation…
I have grown a lot by being in contact with Gaya. She created Tao in May and in June we organized a Visionary Art retreat.
Each soul that approaches her grows, evolves and improves, Thanks Gaya!"
Guia Boletti – Holiday House Manager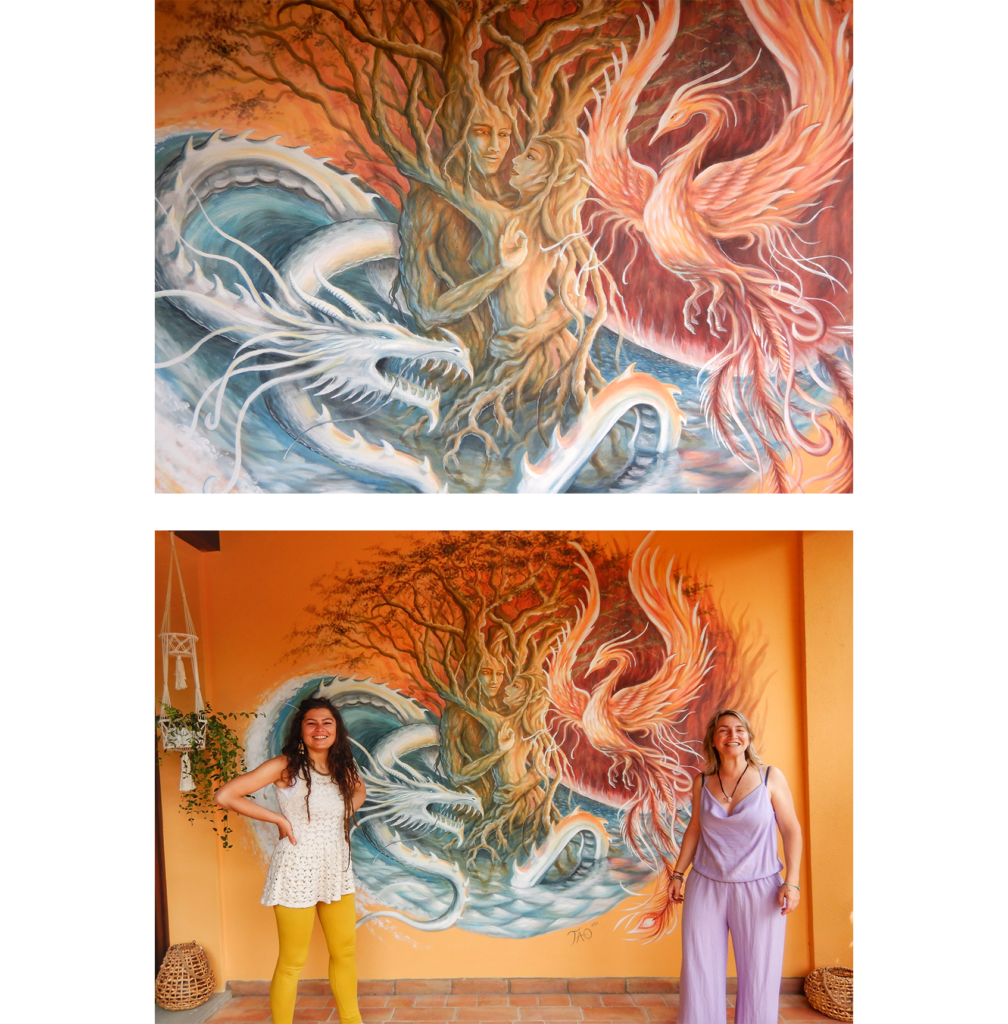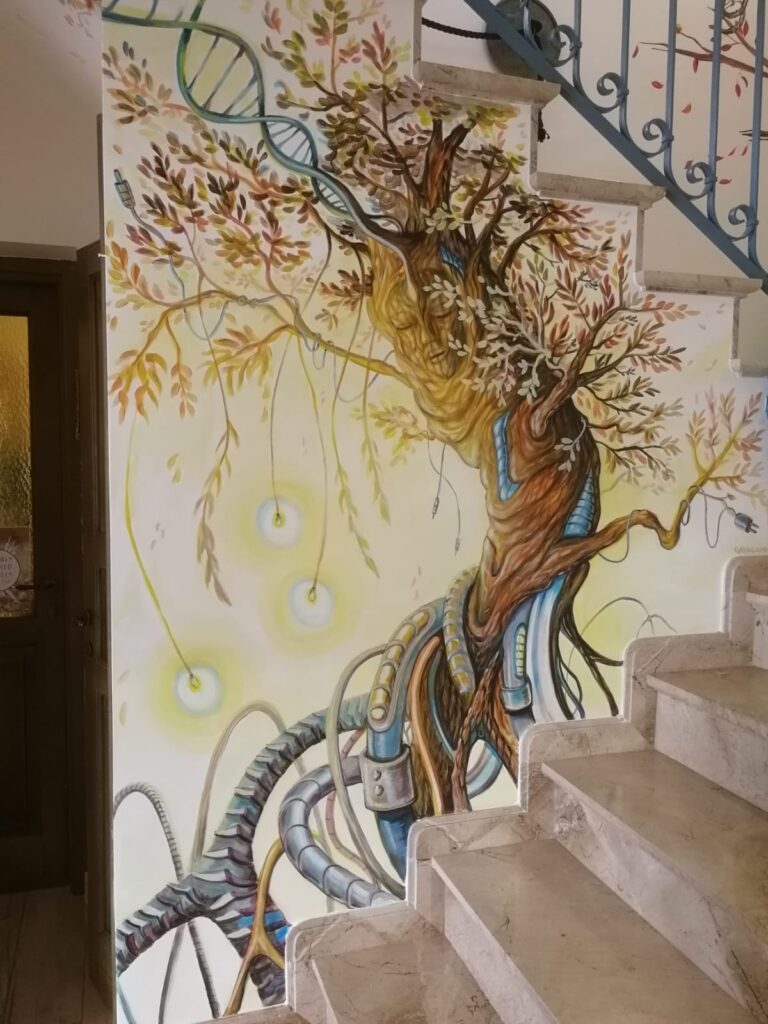 "Gaya is an artist and a wonderful person.
I am lucky enough to admire one of her artwork created at the Timbuktu Hotel in San Vito lo Capo, Sicily in Italy, every day of my life!
Thank you so much Gaya"
Marco Petralla – Hotel Manager
"I decided to commission her the Portrait of my beloved cat with me. As you can see, a magnificent work has come of it.
I advise all those who want to impress what you love on canvas to rely on Gaya, because she keeps you updated as the painting progresses and she can't go wrong."
Andrea Andres – Sacred Geometry Designer
FOLLOW at SOCIAL MEDIA to STAY UPDATED on NEWS!